The Genealogy of the Thompson Family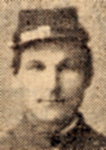 Adam Schroth

1832 - 1912 (79 years)
Name

Adam

Schroth

Born

02 Jun 1832
Germany

Gender

Male

Died

05 Apr 1912
Seymour, Outagamie County, Wisconsin

Buried

09 Apr 1912
City Cemetery, Seymour, Outagamie County, Wisconsin

Person ID

I911
Thompson

Last Modified

14 Jan 2005






Family 2

Fredericka Louise Fiestedt, b. 04 Nov 1864, Tonawanda, Erie County, New York , d. 24 May 1914, Seymour, Outagamie County, Wisconsin (Age 49 years)

Married

11 Jan 1883
Appleton, Outagamie County, Wisconsin

Children

| | |
| --- | --- |
| + | 1. Josephine Schroth, b. Oct 1883, North Dakota |
| + | 2. Theresa Schroth, b. Oct 1885, North Dakota , d. 28 Nov 1980 (Age ~ 95 years) |
| + | 3. Alma Schroth, b. Aug 1887, North Dakota |
| + | 4. Caroline Mae Schroth, b. 12 May 1891, North Dakota , d. 23 Dec 1949 (Age 58 years) |
| + | 5. Raymond Adam Schroth, b. 07 Sep 1892, North Dakota , d. 18 Oct 1952 (Age 60 years) |
| + | 6. Lillian Schroth, b. Sep 1894, North Dakota |
| + | 7. Albert Harvey Schroth, b. 15 Mar 1897, Seymour, Outagamie County, Wisconsin , d. 11 Jan 1973, Neenah, Winnebago County, Wisconsin (Age 75 years) |
| + | 8. Roland Harold Schroth, b. 08 Nov 1899, Seymour, Outagamie County, Wisconsin , d. 12 Dec 1951, Thomson, Carroll County, Illinois (Age 52 years) |

Last Modified

29 Sep 2003

Family ID

F317
Group Sheet | Family Chart




Photos

Adam Schroth
Adam Schroth, His last official photograph in uniform was taken the day he was honorably discharged in Indianapolis, Ind. Apr 1865.
Adam Schroth
Adam Schroth, His last official photograph in uniform was taken the day he was honorably discharged in Indianapolis, Ind. Apr 1865.






Notes

Certificate of Citizenship on file.
1900 Census on file.
1910 Census on file.
On the 1910 Census it says Adam came to the United States in 1849.

===
Newspaper Article, May 23, 1965, Sunday Post-Crescent, Page 8
Historically Speaking

Albert Schroth Is Veteran 'By Proxy'
By Lillian Mackesy, Post-Crescent Staff Writter

When Albert Schroth, 1318 N. Oneida St., Appleton, makes his annual Memorial Day pilgrimage to the trim little cemetery near Seymour, he will be remembering both his Civil War veteran father and some of the most exciting moments of his boyhood.
The retired Appleton postal worker is more than a Civil War buff. In a sense, the 68-year-old is a Civil War veteran by proxy.
As a youngster in Seymour, he rememmbers vividly the stolen hours spent crouched on the family staircase or behind a door while he reveled in the war talk going on in the parlor. There his father, Adam Schroth of Company A, Second Missouri Regiment, held forth with his war cronies as they swapped yarns of camp life freely and recalled military life in bivouac and battle.
It was not talk "for young pitchers," so Albert, his brothers and sisters were shooed away when the"old boys in Blue" got together behind closed doors. The elder Schroth either never knew or pretended he didn't know about Albert's listening.
For Albert these were thrilling hours and he got so he could spin a soldier's yarn as readily and as accurately as the combatants behind the parlor doors.

Fought Throughout War

Adam Schroth was a powerful man, 6 feet 5 1/2 inches tall and rawboned. His military service spanned the entire war from the day after the firing on Ft. Sumter in Charleston Harbor April 12, 1861, to the week after Lee surrendered in April, 1865, at Appomattox Court House. His last official photograph in uniform was taken the day he was honorably discharged in Indianapolis, Ind., from his missouri regiment.
He came to Appleton after the war--relatives already had settled in the area--but his stay was brief. The restless soldier took off for 10 roaming years in the west, presumably buffalo hunting. His next stay in Appleton as a logger and carpenter lasted long enough to meet, woo and wed Fredericka Fiestedt of the Town of Center. Then came years of homesteading in the Red River Valley, the family living in a sod house with ammunition and firearms furnished by the government for protection against marauding Indians. Selling his land at a handsome profit because of the new railroad, Adam brought his family to Seymour, where he settled down to the carpentry trade and lived out his life.
Adam was German-born, coming to this country as a youngster of 14 in 1846. He worked for his passage on a sailing ship and when he arrived he turned to stevedoring. He was a wharfman in New Oreans, eating with a policeman friend in an oyster house when news came that Fort Sumter was under bombardment. Adam's reaction was immediate and loud.

In Trouble

"Why, that's treason." he exclaimed. His friend agreed just as loudly. "Adam, you're right!"
One glance about the room told the pair to leave their coveted oysters in a hurry. The word went out that two yankees were on the docks. They had to sneak out of port on the last packet north to St. Louis to avoid being lynched.
That's how Adam became a Union soldier from Missouri. It also was the start of an enlistment that started out for 90 days and streched on across the country eastward into four full years, a fact none of the boys ever figured on.
Adam was wounded twice, both times severely. He nearly died from the musket ball wound he received in the battle of Chickamauga Creek. He was behind a stump on the skirmish line when he was hit in the stomach. He crawled 300 yards back to the line before being picked up and put on a strecher. He was hospitalized for a long period before returning to his unit, just in time to take part in the famous "Battle above the Clouds" on Lookout Mountain, Tenn.
This time he got a musket ball in his left shin during one of the charges and the soldier carried the bullet in his leg until his death in 1912.

Lookout Mountain

"You could tell there was going to be a battle . . . it was in the air." Adam and his cronies always used to say as a preface to Lookout Mountain. Then would come the story of his bunk mate . . . how he gave Adam all his papers because he knew he was going to be killed. "In that charge up the mountain, he hollered as he went . . . he was shot and he kept right on going until he fell dead," Adam would say of his buddy.
These were the sort of stories young Albert, Adam's middle son, listened to from his hiding place. There were others, too, that had to do with the good times and carefree moments of camp life rather than grim business of soldiering. Like the time Adam "liberated" a big box of crackers from a rebel store across the river. While bullets dropped all around him, the soldier crawled across the bridge, hanging onto the crackers, his buddies cheering him on.
"Weren't you scared?" came the question. "Well, I was going almost as fast as those bullets!" was the reply.
These many-told tales of a war long before his time will live again for Albert Schroth when he visits his father's grave with its simple, official Civil War marker. Lettered within its stone shield are the words "Adam Schroth, Co. A, 2 Mo. Inf."
===




Died:




Death Certficate on file.