The Genealogy of the Thompson Family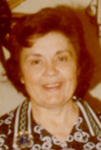 Helen Irene Thompson

1921 - 1978 (56 years)
Name

Helen Irene

Thompson

Born

23 Jun 1921
Brewster, Kansas

Gender

Female

Died

22 May 1978
Denver, Colorado

Buried

26 May 1978
Goodland Cemetery, Goodland, Kansas

Person ID

I69
Thompson

Last Modified

10 Mar 2004




Father

Ivan Coxy Thompson, b. 20 Sep 1890, Mercer County, Missouri , d. 23 Mar 1977, Colby, Kansas (Age 86 years)

Mother

Julia Frances Smith, b. 15 Aug 1888, Summerfield, Kansas , d. 19 Dec 1969, Goodland, Kansas (Age 81 years)

Married

20 May 1917
Goodland, Kansas

Family ID

F24
Group Sheet | Family Chart






Photos
Ivan Thompson children
Helen b. 1921, Kenneth b. 1924 and Harold b. 1918, taken about 1926.
Floyd Owens and family
In back are Beth and Brent, in front are Paul, Helen and Floyd. Taken Chirstmas 1972. (At least one living or private individual is linked to this item - Details withheld.)
Helen and Floyd Owens and family.
Left to right: The two in the far back are Greg Owens and Brent Owens, the next row up are Gary Kickler, Teri, Floyd Owens, Beth Owens, Rodney Owens, next row is Cynthia (Owens) Kickler with Ann on her lap, Brian, Helen (Thompson) Owens, Paul and Jan with Jason on her lap.
Helen Irene (Thompson) Owens
Helen Irene (Thompson) Owens





Notes

Obit:
Helen Owens Dies at 56; Services Held Friday
Funeral services for Helen Irene (Mrs. Floyd) Owens were held at 10 a.m., Friday, May 26, at Our Lady of Perpetual Help Catholic Church in Goodland. Revs. Merlin Kieffer and Bob Reif officiated.
A wake service for family and friends was held at 7 p.m., Thursday at Koons Chapel. Burial was in the Goodland Cemetery.
Mrs. Owens died Monday night at St, Anthony's Central Hospital in Denver, where she had been hospitalized since the last of April. She was 56.
She was born June 23, 1921, in Brewster to Ivan and Frances Thompson. In 1929, her family moved from the Brewster area to a farm north of Edson. She attended schools in Edson.
On Oct. 12, 1947, she married Floyd Owens in Goodland. He survives at the home. Following her marriage, she and her husband moved to a farm five miles southeast of Edson, where they were living at the time of her death.
In addition to her husband, she is survived by four sons, Greg, Goodland, and Rod, Brent and Paul, all of the home; three daughters, Jeanette Habiger, Boise, Ida., Cynthia Kickler, Tribune, and Beth Owens, of the home; a brother, Harold Thompson, Olathe; and five grandchildren. She was preceded in death by her parents, one son and a brother.
She was a member of St. Catherine's Circle, Smoky-Iowa EHU and Great Plains wire Committee.
Memorials to the Kansas Heart Association may be left at Goodland State Bank, First National Bank or Koons Funeral Home.
Music for the service was provided by Mrs. Raymond McCants at the organ, with Larry Koons soloist.
Casket bearers were Alfred Gerstner, Cyril Saddler, Harden Mann, Mac Anderson, Floyd Pickett, William Laughlin and Toucher Bretz. Honorary casket bearers were Kit Gerstner, Twila Saddler, Josephine Mann, Ruby Anderson, Laverce Pickett, Nancy Laughlin and Opal Bretz.