The Genealogy of the Thompson Family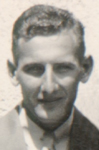 Charles John Tripp

1920 - 1998 (78 years)
Name

Charles John

Tripp

Nickname

Chuck

Born

02 Jan 1920
Lanark, Carroll County, Illinois

Gender

Male

Died

18 Jul 1998
Los Angeles, Los Angeles County, California

Buried

23 Jul 1998
Creamated, Ashes spread in the Rocky Mountians in Colorado

Person ID

I708
Thompson

Last Modified

13 Jan 2012




Father

Floyd Anthony Henry Tripp, b. 09 Oct 1896, Chadwick, Carroll County, Illinois , d. 16 Dec 1972, Chadwick, Carroll County, Illinois (Age 76 years)

Mother

Ida Catherine Michael, b. 01 Oct 1898, Carroll County, Illinois , d. 18 Feb 1976, Chadwick, Carroll County, Illinois (Age 77 years)

Married

23 Jan 1918
Chadwick, Carroll County, Illinois

Notes

When they got married Floyd lived in Chadwick, Illinois and Ida lived in Lanark, Illinois.

Married:

Have also seen notes stating that Floyd and Ida were married in Mt. Carroll, Illinois.
Floyd and Ida also raised another child - see Derrill Robert Schroth.

Family ID

F1101
Group Sheet | Family Chart




Family

Virginia Emma Schroth, b. 18 Jan 1922, Appleton, Outagamie County, Wisconsin , d. 21 Dec 2011, Saxton Riverside Care Center, St. Joseph, Buchanan County, Missouri (Age 89 years)

Married

21 Sep 1941
Kahoka, Clark County, Missouri

Divorced

14 Jan 1963

Children

Last Modified

28 Sep 2005

Family ID

F244
Group Sheet | Family Chart






Documents

1930 United States Federal Census Record - Rock Creek, Carroll County, Illinois - Sheet 7
(At least one living or private individual is linked to this item - Details withheld.)




Headstones

Tripp, LaVerle Eugene
LaVerle Eugene Tripp, Aug. 18, 1946 - Aug. 26, 1946, United with his father, Charles John Tripp, Jan 2, 1920 - July 18, 1998.




Notes

News Article, Unknown Date
Farewell Festivity for Charles Tripps
Mr. and Msr. Henry Baumgardt entertained at a picnic supper Saturday evening at the American Legion Hall.
The event was in honor of Mr. and Msr. Charles Tripp, who are moving to Denver, Colo. in the near future.
A gift of money was presented to the honoree from the following who were present: Mr. and Mrs. Ray Jarvis of Aurora, Mr. and Mrs. Oran Bryant and family, Mr. and Mrs. Gail Spencer, and family, Mr. and Mrs. Paul Davis and family, Mr. and Mrs. William Brown and family and Mr. and Mrs. Don Miller and family.
Obit:
TRIPP
Charles J. Tripp, Denver. Father of Charles (Cindy), Sheldon (Dee), Michael Tripp, Cheryl (Abel) Gutierrez; numerous grand and great-grandchildren; also survived by numerous brothers and sisters. Visitation, Wednesday 4-8 pm. Funeral service, Thursday 11:00 am, both at OLINGER'S MAGNOLIA MORTUARY, 6601 E. Colfax Ave. Service to conclude.
CHARLES J. TRIPP
78, formerly of Denver, died July 18. Services were July 23. Mr. Tripp was born in Carroll County, Ill., on Jan. 2, 1920. He retired from the University of Colorado Medical Center after 15 years as housekeeping supervisor. Survivors include daughter Cheryl Gutierrez of Commerce City; sons Charles of Missouri, Sheldon of Oklahoma, Michael of California; sisters Erma Williams, Bernadine Messenger and Mildred, all of Illinois; brothers Kenneth and Allen, both of Illinois; nine grandchildren; a stepgrandchild; 20 great-grandchildren.