The Genealogy of the Thompson Family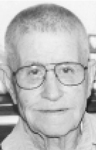 George Sheldon Bear

1917 - 2000 (83 years)
Name

George Sheldon

Bear

Born

20 Feb 1917
Thomas County, Kansas

Gender

Male

Died

26 Sep 2000
Goodland, Kansas

Buried

29 Sep 2000
Brewster Cemetery, Brewster, Thomas County, Kansas

Person ID

I63
Thompson

Last Modified

4 Nov 2005




Father

William Walter Bear, b. 18 Dec 1890, Brewster, Kansas , d. 18 Jul 1958, Brewster, Kansas (Age 67 years)

Mother

Bessie Mae Thompson, b. 14 Jan 1889, Mercer County, Missouri , d. 28 Feb 1963, Colby, Kansas (Age 74 years)

Married

12 Oct 1910

Family ID

F20
Group Sheet | Family Chart




Family

Vivian Elaine McCall, b. 22 Mar 1921, Thomas County, Kansas , d. Dec 1985, Thomas County, Kansas (Age 64 years)

Married

23 Sep 1939
Russell Springs, Logan County, Kansas

Children

Last Modified

6 May 2003

Family ID

F221
Group Sheet | Family Chart




Photos

William and Bessie Bear's Children
William and Bessie Bear's Children, Lorna in Back, and Lloyd, Voilet and George Bear. (At least one living or private individual is linked to this item - Details withheld.)
George Sheldon Bear
George Sheldon Bear




Headstones

Bear, George S
BEAR, V Elaine 1921 - 1985, George S 1917 - 2000




Notes

Obit for George S. Bear:
George Sheldon Bear, 83,Goodland, a retired county employee,died Tuesday,Sept. 26, 2000, at the Good Samaritan Center in Goodland. He had lived there for three and a half years.
He was born Feb. 20, 1917, in Thomas County, the son of Bessie(Thompson) and William Bear.
He attended Garden Plains School, which was north of Brewster. As a young boy, he liked horses, football, baseball and feeding cattle.
He graduated in 1936 from Brewster High School.
After graduation, he went to California for a short time to work. He returned to Brewster to farm.
He and Vivian Elaine McCall were married Sept. 23, 1939, in Russell Springs. They lived on a farm north of Brewster.
He farmed until 1969, when the couple moved to Goodland. He worked at the Great Western Sugar Beet Factory for a short time. Then from 1973 to 1982, he worked for the Sherman County Highway Department.
He enjoyed spending time with his grandchildren and great-grandchildren. He taught his grandchildren how to play checkers and pool.
He enjoyed visiting with friends, playing cards, bowling, fishing, camping, taking drives to the country and going on trips to get ice cream.
His funeral will be at 10 a.m. Friday at Koons Chapel in Goodland with Pastor Jim Cress officiating. Burial will follow in the Brewster Cemetery.
Friends may call from 3 to 8 p.m. today and before the service Friday at the chapel.
Survivors include a son, Kermit L.Bear, Goodland; two daughters, Roberta S. Rehor, Goodland, and Cinda L. Speakman, Grand Junction, Colo.; a sister, Violet Miller, Colby; and five grandchildren.
He was preceded in death by his wife in 1985; a son, Gary S. Bear, in 1996; his parents; a sister, Lorna Eicher; and a brother, Lloyd Bear.
Memorials may be given to the George S. Bear Memorial Fund to be designated later and left at Koons Funeral Home, 211 N. Main, Goodland, Kan. 67735 or First National Bank, 202E. 11th, Goodland.