The Genealogy of the Thompson Family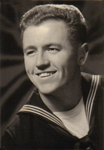 Dennis Eugene Thompson

1946 - 2003 (56 years)
Name

Dennis Eugene

Thompson

Born

12 Nov 1946
Norton, Kansas

Gender

Male

Died

07 Jul 2003
Cheyenne, Wyoming

Buried

11 Jul 2003
Cheyenne Memorial Gardens, Cheyenne, Wyoming

Person ID

I43
Thompson

Last Modified

14 Feb 2004






Photos
Twila and Dennis Thompson
Taken in Sep 1949.
Twila, Judy and Dennis Thompson
Twila holding Judy, and Dennis Thompson taken in Apr 1950. (At least one living or private individual is linked to this item - Details withheld.)
Dennis Eugene Thompson
Dennis Eugene Thompson in the U.S. Navy.
4 generations of Marjorie (Starns) Thompson's family.
Left to right: Troy Thompson, Marjorie (Starns) Thompson Westover holding Toby Thompson and Dennis Thompson taken June 1997. (At least one living or private individual is linked to this item - Details withheld.)




Notes

Dennis died from a massive heart attack on 07 Jul 2003.

Obit:
Dennis E. Thompson
(Published: 7/9/2003)

1946-2003
Dennis Eugene Thompson, 56, of Cheyenne died July 7 at United Medical Center-West.
He was born Nov. 12, 1946, in Norton, Kan., and had lived here since 1981.
Mr. Thompson was a City Electrical Inspector of Cheyenne.
He was a member of St. Mary's Cathedral, VFW 1881, Knights of Columbus and IBEW.
Mr. Thompson is survived by his wife, Jayne Thompson of Cheyenne, whom he married Feb. 3, 1968, in Greeley, Colo.; a son and daughter-in-law, Troy and Aimee Thompson of Cheyenne; four daughters and two sons-in-law, Tamra and John Sayers, Tiffany Thompson, Tracy and Joe Farris, all of Cheyenne, and Tara Thompson of Woodland Hill, Calif.; his mother, Marjorie Westover of Brewster, Kan.; three brothers, Larry Westover and Daryl Westover, both of Greeley, and Mark Westover of Denver; three sisters, Twila Emory of Cheyenne, Judy Samuelson of LaSalle, Colo., and Cheryl Kohler of Greeley; and five grandchildren, Brenna Thompson of Woodland Hill and Toby Thompson, Devany Farris, Shelbee Thompson, Gannon Thompson and Hailee Sayers, all of Cheyenne.
He was preceded in death by his father, Carl Thompson; and stepfather, Jess Westover.
Vigil for the Deceased will be 7 p.m. Thursday at Wiederspahn-Radomsky Chapel of the Chimes.
Funeral Liturgy will be 10:30 a.m. Friday at St. Mary's Cathedral with the Revs. Kevin Koch and Gary Ruzicka as co-celebrants.
Interment will be in Cheyenne Memorial Gardens.
Military honors will be provided by the American Legion Honor Guard.
Pallbearers will be Troy Thompson, Joe Farris, John Sayers, Greg Searls, Bob Kerbel and Mark Westover.
Friends may contribute to St. Mary's School.
This is a paid obituary.