The Genealogy of the Thompson Family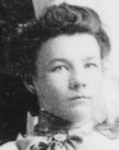 Addie Rae Thompson

1892 - 1976 (83 years)
Name

Addie Rae

Thompson

Born

17 May 1892
Mercer County, Missouri

Gender

Female

Died

17 Jan 1976
Wray, Yuma County, Colorado

Buried

21 Jan 1976
Grandview Cemetary, Wray, Yuma County, Colorado

Person ID

I19
Thompson

Last Modified

4 Mar 2004




Father

William Sheldon Thompson, b. 28 Apr 1860, Shelby County, Illinois , d. 17 Feb 1946, Brewster, Thomas County, Kansas (Age 85 years)

Mother

Nancy Ann Cox, b. 05 Jan 1859, Mercer County, Missouri , d. 03 Feb 1937, Rawlins County, Kansas (Age 78 years)

Married

31 Aug 1882
Mercer County, Missouri

Family ID

F4
Group Sheet | Family Chart




Family

Sheldon A McAdams, b. 14 Feb 1895, Sherman County, Kansas , d. 07 Oct 1965, Wray, Colorado (Age 70 years)

Married

01 Aug 1916
Goodland, Kansas

Children

Last Modified

4 Jan 2003

Family ID

F32
Group Sheet | Family Chart




Photos
Addie Rae Thompson
Taken about 1906.
Idonia and Addie Thompson
Idonia Thompson (sitting) and Addie Thompson (standing)
Addie Thompson and Harriet McAdams
Addie Thompson and Harriet McAdams taken 09 Sep 1915 in Goodland, Kansas.
Addie Rae (Thompson) McAdams
About 1936.
William Sheldon And Nancy Ann (Cox)Thompson's Children
Left to Right: Elmer, Idonia, Fred, Addie, Ivan, Bessie, Charley and Chancy Thompson. Only one missing is William, he passed away in 1924.
The Thompson Women
From Left to right are: Thelma (Nicholas) Thompson, Julia Frances (Smith) Thompson, Florence Annette (Eppler) Thompson, Lydia Doris (Isernhagan) Thompson, Mary Idonia Thompson, Addie Rae Thompson and Bessie Mae Thompson, Taken about mid 1950's.
Addie (McAdams) and Ivan Thompson
Taken 21 Dec 1975 at Elic and Thelma's 50th Wedding Anniversary.





Notes

Obit:
McAdams Service Held Wednesday
Addie Ray McAdams passed away Saturday evening at the Wray Community District Hospital following a brief illness. Funeral services were held at two o'clock Wednesday afternoon at the First Christian Church with Rev. Charles Matthews officiating. Interment was in Grandview Cemetery.
Addie McAdams was born May 17, 1892 at Mercer, Mo., the daughter of William S. and Nancy Thompson. She moved with her parents, six brothers and two sisters ina covered wagon to a home north of Brewster, Kan.
She was united in marriage to Sheldon A. McAdams August 1, 1916 at Goodland, Kan. To this union two children were born. They moved to a ranch north of Laird in 1936 and later to Wray in 1955.
She was an active member of the First Christian Church, the Rebekah Lodge and a number of other clubs.
She is survived by her son Cecil Lee McAdams and wife Berdean of Sandy, Utah; daughter Anna Elizabeth Reed and husband Virgil of Wray; six grandchildren; six great grandchildren; one sister; three brothers; several nieces and nephews and a host of friends.
Her parents, husband, one sister and three brothers preceded her in death.